List views are a favourite of Sage 200 users and can be found within all of the modules.
What is great about list views is how configurable they are, you can add or remove your list views to suit you. As an individual user, you are able to decide which columns you want to display.
---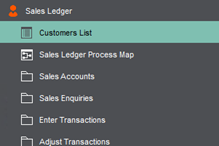 From the Main Menu select the module you want, in this example the Sales Ledger, and this opens up the menu for that module.
Within the Sales Ledger we have Customers List
Select this and the main desktop area displays the Customers List view.
You can see this display's information about each customer, with the fields separated into different columns.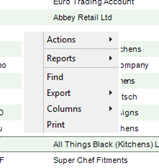 To Add a new Column, Right Click on the List view
Move your mouse to hover over the 'Columns' menu option. This will display a sub menu which lists the available fields to display as columns (NB. there are some addition sub menus displayed which give further fields).
The items which have a tick next to them are already enabled as a Column. To enable something else simply click the required field.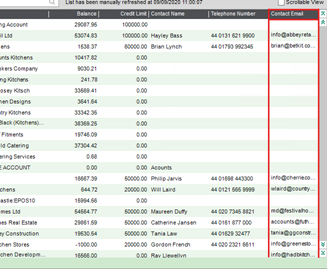 I have added 'Contact Email'.
New columns are always added to the far right of the list view. You can left click the column heading, to drag and drop the column in a different place.
To delete a column, you can repeat the process but select a field with a tick next to it.
---
If you would like to stay in the loop about our latest tip then make sure you are following us on Twitter, LinkedIn and Facebook!
As we are constantly looking at ways in which we can improve our service, you are more than welcome to leave your feedback on our form. If you have any suggestions for what you would like to see featured as a tip of the week please email [email protected].
If you would like to discuss a support contract for your Sage system, then take a look at our Sage support service. Contact us via the enquiry forms or call 01332 959 008 if you would like more information.
---
NB: Be advised that the information/accuracy in this article may differ depending on which version of Sage 200 you use, as a result, some options and processes might look different. For all support queries please email [email protected].
Interested to know more about our Sage solutions?
"*" indicates required fields