List views contain a lot of useful information which can be used to pre-populate screens, report on or export to Excel.
Whilst this is useful, sometimes there can be a lot of data. It is much easier to work with list views in Sage 200 when you can filter data.
Watch the video below or read through the instructions to see how you can make the most of these list view filters in Sage 200.
---

To filter by a criteria all List views in Sage 200 have a filter option.
To Create a filter, select the filter icon.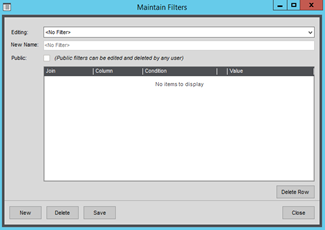 The maintain filters screen will open.
Select New
You are able to amend the name.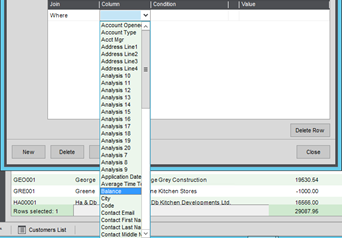 If you want other users to have access to this filter then select the Public checkbox.
Build up the filter by selecting a Column to choose the data you want to filter on. All Columns available to the List view are usable (not just those on display).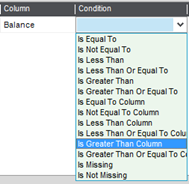 Choose the Condition you want the data to meet (this list is dependant on the type of data the selected column would contain).
Then specify the Value for the condition to meet. This field will work relevant to the Column and Condition selected. So, it may be a predefined list to select from, numerical field, date based field or free text.
For my example I have selected another column, as the condition is to compare the data in another column.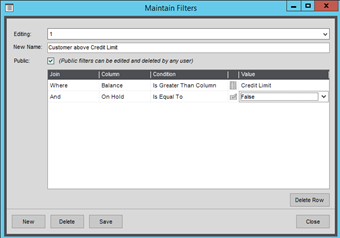 It is possible to add multiple lines to the filter to allow for you to specify And / Or scenarios which you can determine by the Join field.
Select Save and Close
The filter is now stored in the filter dropdown list where it can be selected to filter the List View data.
---
If you would like to stay in the loop about our latest tip then make sure you are following us on Twitter, LinkedIn and Facebook!
As we are constantly looking at ways in which we can improve our service, you are more than welcome to leave your feedback on our form. If you have any suggestions for what you would like to see featured as a tip of the week please email [email protected].
If you would like more support concerning your Sage system, take a look at our Sage support service. Contact us via the enquiry forms or call 01332 959 008 if you would like more information.
---
NB: Be advised that the information/accuracy in this article may differ depending on which version of Sage 200 you use, as a result, some options and processes might look different. For all support queries please email [email protected].
Interested to know more about our Sage solutions?
"*" indicates required fields