Like so many people in business over the last two years, the COVID-19 pandemic has changed the way Finance Directors interact with their teams.
Working from the office is no longer the norm. Though homeworking comes with many benefits, productivity must still be measured – and managed.
Keeping productivity high isn't only good for a business's profits, but it benefits their employees too. If employees know how productive they are, they're likely to work harder and be more engaged.
What factors can impact a team's productivity?
Many factors can impact productivity, but by far the biggest culprit is stress. Some common work stressors that can dent your team's productivity are:
Multitasking
Working overtime to try and get ahead of workload
Attendance at unnecessarily long meetings
Unstructured or inefficient workflows
Outdated technology
Insufficient breaks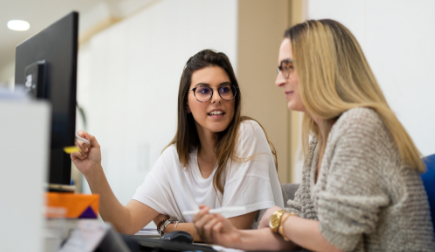 ---
How can finance directors boost productivity in their teams?
Finance directors have a lot of tools at their disposal to boost productivity in their teams. Some are HR-based strategies, while others are more specific to the finance director's role. We have listed a few examples below.
Embrace Different Ways of Working
As we've mentioned, home or hybrid working is increasingly becoming the reality inside and outside of finance. Not all of us can make the move to full remote working. However, this isn't always needed. Allowing any sort of flexibility will lead to your employees feeling trusted to make their own decisions. This means they'll be more empowered to work hard on the business' behalf.
Master Morale
Morale can be an ambiguous term, but it's key to ensuring productivity. How this looks will be different depending on what sort of team you have, from shifting to more regular, tailored meetings or a full departmental overhaul. All will help your employees not just do more, but to feel better about what they do.
Automate Your Processes
Though there are some business processes that require a human touch, automation can work wonders at increasing a team's productivity. Software can take care of repetitive manual tasks which would otherwise take up much of an employee's time. Unlike traditional solutions, like spreadsheets, multiple users can also access a system at once.
All in all, automating the processes means your employees can optimise their time. That means less waiting, and more completing tasks that add value to your business as a whole.
Are you looking to automate your business accounting processes? Click here to contact us about Sage software, and see what it can do for you.
Artificial Intelligence
Artificial intelligence and finance might not seem to go hand-in-hand, but it has more applications than you think. Take chatbots, for example – you'll often see them in the corner of websites, waiting to answer any customer queries. By automatically pulling content from your website, a chatbot can give simple explanations quickly. Again, this automates a process that would have been covered by team members. However, they're not obsolete – as for more in-depth queries, a human can still be on-hand.
Cybersecurity
Cybersecurity is relevant for all businesses in the 21st century. For finance teams, there are also specific threats. Business Email Compromise (BEC) attacks send emails looking like they're from senior executives, often to members of the finance team. It tricks employees into paying for legitimate goods or services, with the money going into a fake bank account.
Obviously, recovering from the attacks involves a lot of effort. Guarding against one can also take up a surprising amount of staff time, with colleagues' identities needing confirmation before payments can be processed. This is all the more reason to invest in quality cybersecurity, like encryption software for payments.
---
Increasing productivity in a finance team means considering the bigger picture. By taking opportunities to improve software, culture and processes, you'll ensure that your employees remain focused and engaged.
If you'd like to find out more about how Sage can help your business thrive, contact us on 01332 959008, or use the enquiry form.
Interested to know more about our Sage solutions?
"*" indicates required fields