Knowing how to reset your desktop settings and preferences in Sage 200 is extremely useful.
It means that if you ever lose the ability to see a column on a list view, a column within a screen or have any other issues in Sage, you can easily set it back to the default settings.
This Tip of the Week will go through exactly what you need to know and how to do it.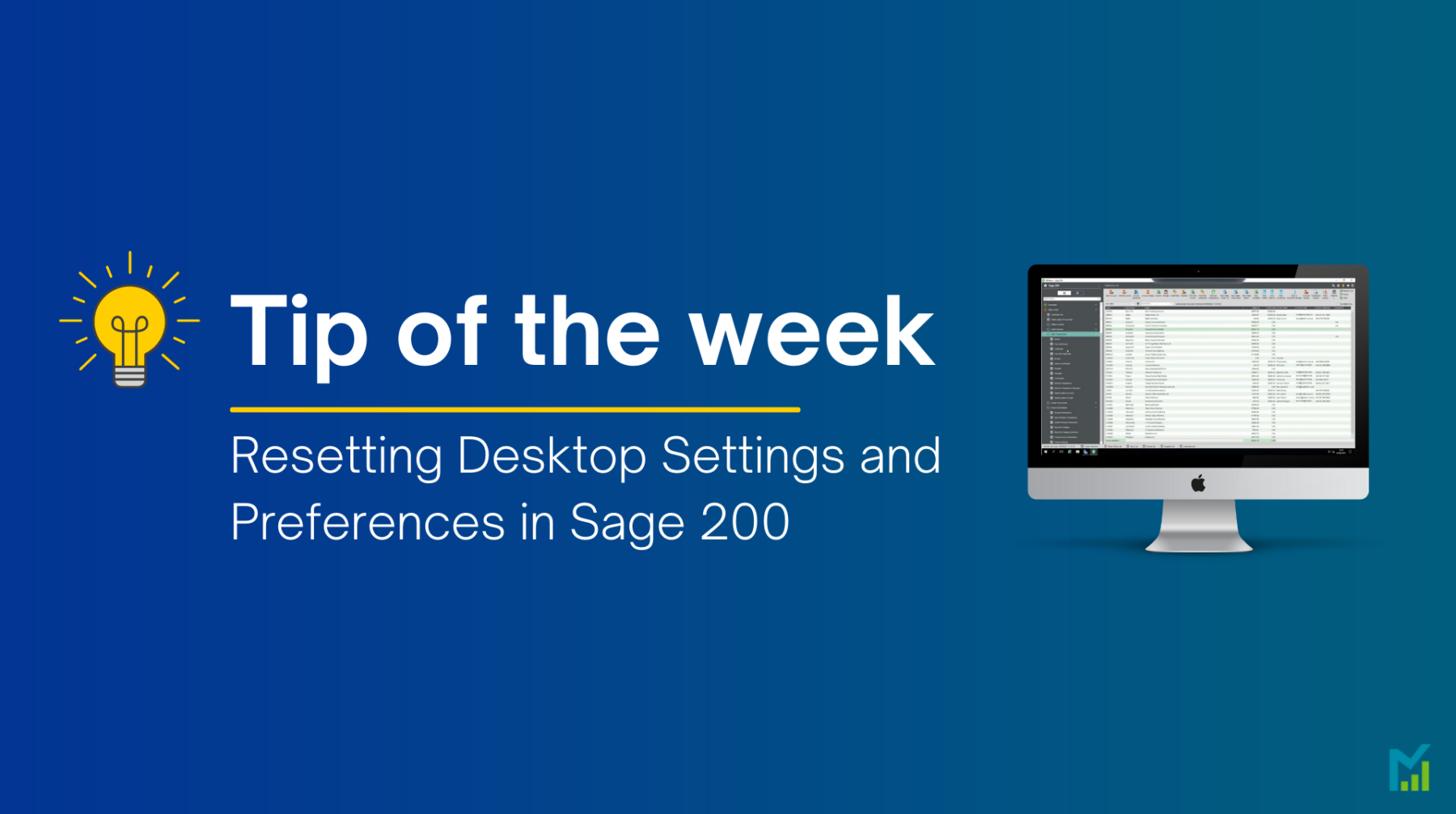 ---
To start go to the Tools option (the cog icon) in the top right-hand corner of Sage 200.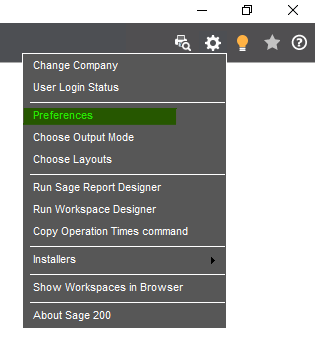 From the subsequent drop down menu choose 'Preferences'
You can then choose the option to 'Reset desktop settings'
This removes any changes made to the desktop, for example, column choices, and resets the desktop back to the Default values.
Within this same preferences screen you can also
Set the desktop theme
You can set the desktop Theme to White, Light or Dark.
By default, Sage 200 opens with a Dark theme. If you change the theme, the change applies when you re-open Sage 200. Theme changes affect the view of the banner, menu and from backgrounds. They do not affect workspaces.
Set the line spacing for desktop lists
You can set the Spacing for desktop list rows to Narrow, Normal or Wide.
By default, Sage 200 opens with the Normal spacing. Spacing changes do not affect workspaces.
Hide notifications
To stop receiving Save and Delete notifications when you are working in Sage 200, select Disable Save and Delete Notifications.
Note: This does not apply if you are using Excel Reporting from the Self Service web app.
---
If you would like to stay in the loop about our latest tips then make sure you are following us on Twitter, LinkedIn and Facebook!
As we are constantly looking at ways in which we can improve our service, you are more than welcome to leave your feedback on our form. If you have any suggestions for what you would like to see featured as a tip of the week please email [email protected].
If you would like more support concerning your Sage system, take a look at our Sage support service. Contact us via the enquiry forms or call 01332 959 008 if you would like more information.
---
NB: Be advised that the information/accuracy in this article may differ depending on which version of Sage 200 you use, as a result, some options and processes might look different. For all support queries please email [email protected].
Interested to know more about our Sage solutions?
"*" indicates required fields