Make the move to Sage Intacct. Take your business to the next level.
Watch our webcasts to discover how one easy upgrade can provide seamless streamlining, proven ROI and real-time reporting.
As a best-in-class, native-cloud solution, Sage Intacct delivers deep accounting capabilities across multiple industries, designed with a single aim – to accelerate your success.
Through the utilisation of automation, it completes tasks in minutes rather than days, helping businesses work up to 80% more efficiently. No wonder it's been voted #1 in customer satisfaction by G2 Crowd.
We know that switching financial systems can seem daunting, be we've successfully assisted customers with their migration to Sage Intacct and they are reaping the benefits.
Our tools and data migration processes ensure a smooth transition to the cloud. Also, the cloud-based nature of Sage Intacct means that it is quick to deploy and there is none of the usual consideration for technical requirements.
Get your migration to Sage Intacct journey started by accessing the below webcasts
Each webcast will show you how Sage Intacct gives you the tools to conquer completely and empower your finance team.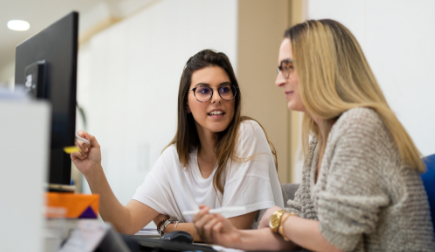 Real-time and multi-dimensional reports and dashboards
Explore a world beyond Excel: easy, intuitive, reporting allows you the insights to make better business decisions.
ROI from cloud finance management: for your organisation
Discover feel-good financial management that will provide a proven return on investment, making everyone happy
Streamline your multi-entity consolidations and management
Attain true efficiency with streamlined automation that will free up your people's time for value-added tasks
---
Have some questions about your migration to Sage Intacct? Get in touch with our expert team via the enquiry form or call us on 01332 959 008

Why work with PKF Smith Cooper Systems?
THE GOOD GUYS TO DEAL WITH
Our business is built on long-lasting, mutually beneficial business relationships. We provide quality service and solutions that work for our clients in the short, medium, and long term.
All our staff are fully accredited in the full range of the Sage 200 Suite and we will never sell you any third party add-on that our staff are not trained to deliver and support directly.
Book a FREE on-site visit to discuss how sage can help scale your business.
Call 01332 959008, email us or enquire online today
"*" indicates required fields