How much does Sage 200 cost?
Sage 200 is now sold exclusively on a subscription basis. Thus customers can no longer purchase a new Sage 200 licence on the traditional, upfront, capital expenditure basis.
The pricing for Sage packages should not to be confused with deployment (on premise or cloud) and is simply the modern commercial model for buying business software.

Whilst subscription is an ongoing cost, it does allow flexibility to increase and reduce users and modules on a monthly basis. It also massively reduces the period to see a return on your investment.
Within all software deals, there are traditionally three components. These are Software, ongoing System Support and Implementation Professional Services.
The pricing for Sage packages will be calculated based on the modules and the number of users required.
The amount of Professional Services days required is clearly subjective to the nature and scope of your project. However you can be assured that all works will be professionally scoped by our experienced team and agreed with you prior to any project kick off.
Any changes to scope mid project will be fully discussed and mutually evaluated prior to production and Smith Cooper will never send you an unsolicited Invoice without full sign off.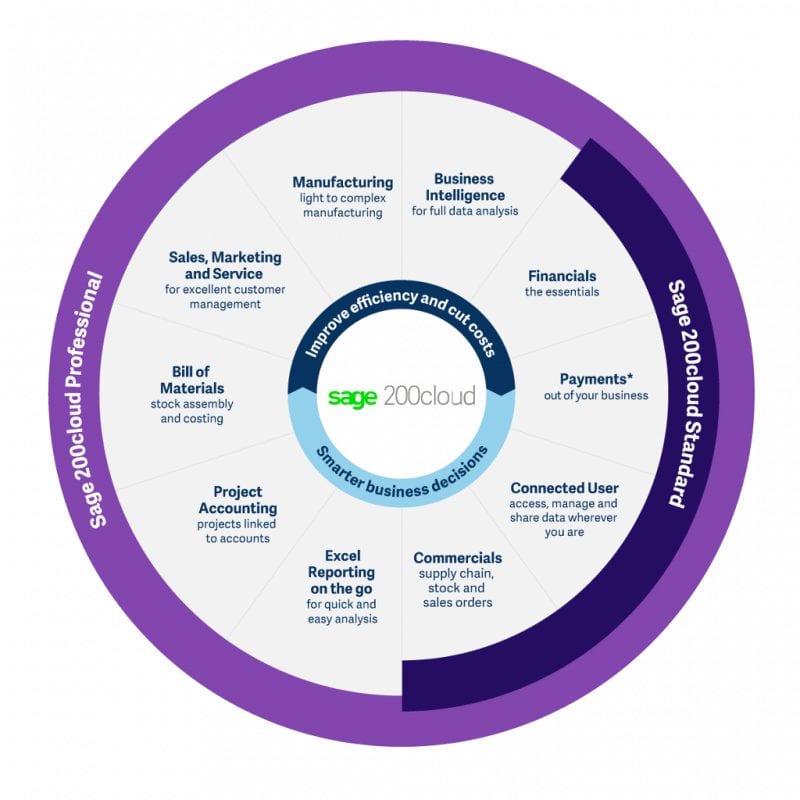 These are detailed below but if you would like to get in touch with a member of our team on 01332 959008 or [email protected], we'll happily help you crunch the numbers!

---
Sage Package #1
Annual Subscription Pricing
Annual "in advance" subscriptions are increasingly becoming the most popular way to buy business software.
Like a traditional monthly subscription, this will include software maintenance and support as standard and will massively increase the speed of your return on investment against the old style outright purchase model.
Clients are often attracted to this option, over monthly subscriptions, as there are sometimes price incentives, on going budgeting is more straight forward and the administration is far easier, as you only need to manage one payment per year.
Sage Package #3
Finance Agreements
Although Sage have moved to Subscription pricing, there is still very much a place for funding your Sage 200 investment via a finance agreement.
If your project includes a significant proportion of professional services it can sometimes help to facilitate the deal by financing these too.
This gives you one easy to manage monthly number for all elements, again reducing your time to ROI and meaning there are no costs at all outside the agreement for a three year period.
Sage Package #2
Monthly Subscription Pricing
Monthly subscriptions based on a price per user per month is the traditional subscription model.
This is a great option for smaller system configurations and can often facilitate you getting up and running very quickly with minimum up front expenditure.
PKF Smith Cooper Systems can also provide our ongoing support services on a monthly interest free basis.
Like the annual subscription, this model includes Sage 200 maintenance, and will massively bring forward the ROI against your Sage 200 investment.
Sage Package #4
Sage 200 Support Contract Pricing
If you already run Sage 200 in your business but are considering transferring your support contract to an alternative provider, PKF Smith Cooper Systems offer various interest free payment plans and incentives for new and existing Sage 200 support clients.
If you are currently mid term with your existing partner and have paid for a full year of support in advance, but wish to transfer mid term, this is also not a problem.
PKF Smith Cooper Systems is built on long term mutually beneficial business relationships and we have no problem with financially assisting clients in the short term to facilitate a long term relationship.
Why work with PKF Smith Cooper Systems?
The Good Guys to Deal With
Our business is built on long lasting, mutually beneficial business relationships. We provide quality service and solutions that work for our clients in the short, medium, and long term.
All our staff are fully accredited in the full range of the Sage 200 Suite and we will never sell you any third party add-on that our staff are not trained to deliver and support directly.
Book a FREE on-site visit to discuss how sage can help scale your business.
Call 01332 959008, email us or enquire online today
"*" indicates required fields
Sage Pricing FAQ
What is a Sage Subscription?

A Sage subscription is a monthly fee you pay for your Sage software. This includes software maintenance, which entitles you to new versions of the software as they are released. This is quickly becoming an industry standard way to buy software, as opposed to a traditional large, upfront, cap-ex purchase. Typically this will massively reduce the time to achieve a return on your Sage software investment and allows you to upgrade through the various versions without the barrier of significant capital outlay.

How much does Sage cost?

As detailed above, Sage moved to subscription only pricing in October 2019. Any quotation will typically be made of three elements – software subscriptions, a support contract and the professional services required for the implementation. Sage 200 is a mid market product so the scope and price of the project is completely subjective to the modules required, any add-on software and the number of users so it is tough to give a generic price. However, the core system (SL, PL, SL, NL, Cbk Invoicing and 1 user) starts at £270 per month.

Can I buy Sage 200 outright? (i.e. on a traditional one off payment basis)?

No. Sage has now moved to 100% subscription basis with regard to Sage 200

How much does Microsoft SQL cost for Sage 200?

Sage has a special deal with Microsoft to provide SQL at a significantly reduced rate than normal distribution channels. The software itself is the full SQL standard that you would buy from anywhere else. However, the associated software licence documentation only permits use with Sage products, which facilitates the reduced price. Note you can only purchase SQL with Sage 200 at the original point of purchase. If you choose to host the solution, SQL will likely be included within your plan.

How much does Sage CRM cost?

Like the core Sage 200, Sage CRM is no longer available to purchase on a traditional upfront basis and in oly available as a subscription. Again, the actual price is subjective to the licence requirements. For example, how many users, do you wish to integrate to Sage 50 or 200 or just be stand alone. Professional Services is also a key consideration with CRM. Do you wish to take the package 'out the box'? Do you require significant system configuration?

How much does it cost to host Sage 200?

Various hosting packages are available to suit specific requirements. The Sage Partner Cloud is now available to all Sage partners based on Microsoft Azure. This will be managed and supported by Smith Cooper alongside your core Sage 200 support. Pricing will vary depending on the scale and make up of your Sage solution. Due to the core server licensing required on each install, regardless of users, pricing generally becomes more economical the more users you have.

Do I get a discount against Sage 200 as a Sage 50 user?

No published discounts are currently available against Sage 200 subscription pricing for Sage 50 users. However, Smith Cooper has various incentives for Sage 50 users which we can discuss on an individual case by case basis.

How much does Sage X3 cost?

Sage X3 is aimed at a slightly higher area of the ERP market than Sage 200. The licence pricing is generally slightly more expensive than Sage 200 but not as much as you would expect. Where the real difference in pricing will be is in respect of professional services where you can comfortably expect an X3 project to take 4 or 5 times the delivery effort than a typical Sage 200 implementation.

Is there a minimum term for a Sage 200 Subscription?

No. Sage 200 subscriptions have no minimum term meaning you can "flex" users and modules as often as you like from month 1 onwards.