Counterpoint EPOS by Kudos Software is a fantastic, easy to deploy and flexible EPOS system, fully integrated to Sage 50 and Sage 200 "out of the box".
Counterpoint EPOS uses Sage 50 and 200 product, customer and pricing records to provide immediate, seamless integration between your EPOS and your back office accounts system.
Counterpoint EPOS can suit many different situations due to the ease and flexibility of the till functions and screens. For example retail, trade counter, hospitality, leisure etc. It is also massively scaleable and is equally effective within single site operations or large scale multi branch situations.
Supporting businesses across the UK
Ideal for companies with:
Requirement to link EPOS to Sage

Multi branch retail model

Trade counter sales
Configure screens to suit your business

Quick easy access to stock availability

Manage trade customer accounts at the POS

Multiple payment options and integrations

Supports loyalty schemes and gift vouchers
CounterPoint EPOS can be installed on a windows retail touch screen till system, but can also be installed onto a PC to support a Trade Counter scenario or even on a tablet for mobile use or perhaps a "pop up" show or stand at a show.
Running on desktop or mobile terminals, this add on boasts a wide range of features. Counterpoint POS delivers the flexibility of modern retail demands with real-time integration into Sage 50 and Sage 200.
The adaptable touch screen system gives focused, easy to use functionality which can be configured to the needs of specific business requirements.
Due to the ease and flexibility of the till functions and configurable UI, this add on can suit many different scenarios from retail and hospitality to trade counter and leisure.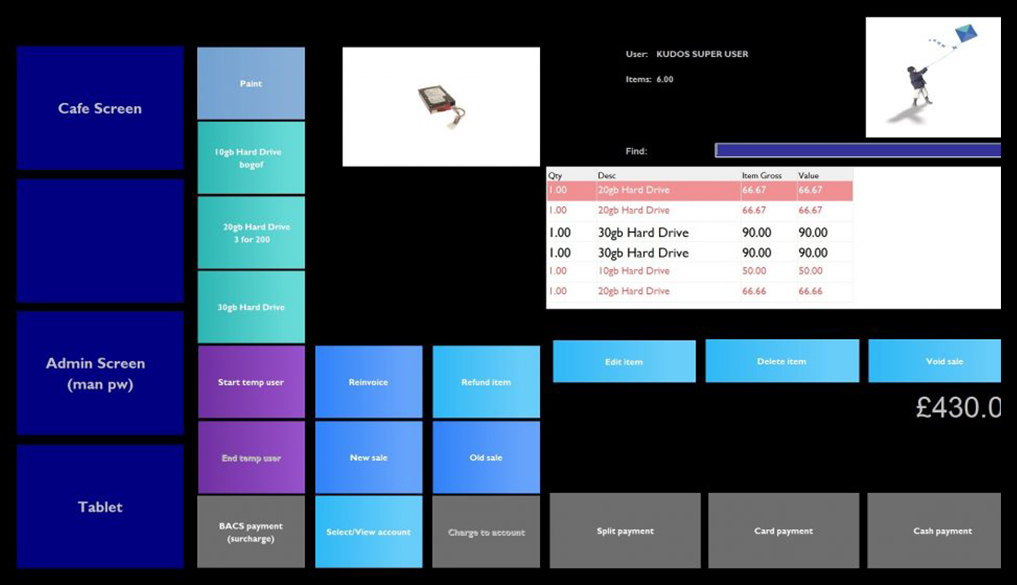 No matter the size of your business this add on is incredibly scaleable and is equally effective within single site operations or large scale multi-branch situations.
A typical example would be anyone who requires bar coded product sales and takes multiple forms of payment (cash, card, etc) but also needs to automate the updating of both Stock levels and cash book balances in Sage in real time.
Key Functionality
Quick easy access to available stock levels
Easily check what is in and out of stock as well as how many stock items you have got. You can also see what alternatives or additional products you can sell.
Multiple payment options
You have the freedom of various payment options from splitting payments and charge to tab, to 'customer not present' card payments.
Pricing control
Extensive promotions and multi-buy.
Customer loyalty.
Gift vouchers.
Manage customer accounts at the POS
Effortlessly add a new customer to Counterpoint with new records feeding directly into Sage.
Track your client accounts so you know if a customer is over their credit limit.
Take payments against a customer account.
CounterPoint for Branches enables
Centralised reporting via web services
Offline local working.
Track your cash and bank locally.
View stock transfers between stores.
Shared configuration and setup.
---
Our approach is to ensure that the solution is the best fit for your business from the start, so we will always discuss your requirements in detail and will happily provide a product demonstration as required.
For more information, to arrange an initial discussion or demonstration please email [email protected] or call directly on 01332 959008.
Find out how EPOS can streamline your business processes!
"*" indicates required fields
If you're interested in this Sage product then we think you may also be interested in..