To celebrate a wonderful year of being Sicon's first Partner of the year we thought it would be good sit down with Steve Jemmott, from Sicon, to reflect on our longstanding partnership
Sicon Sales Manager Steve has been with the company for 7 years now. He is the main point of contact for SCSP and has assisted on various projects, including our webinars.
The partnership between SCSP and Sicon was established in early 2016 and 5 years later our partnership still holds strong. During those 5 years, we have attended various Sicon events, been recognised as one of their top 3 partners and collaborated on a series of webinars to help expose customers to the world of Sicon add ons for Sage 200!
To recap on these last few years we sat down with Steve, so keep reading if you'd like to find out more about our relationship with Sicon!
---
What are your views on the relationship between the organisations?
Steve: The relationship is fantastic! We have excellent levels of communication, with both sides comfortable to have the nice, and sometimes not so nice(!) conversations, which are necessary to maintain a healthy relationship.
From my perspective, Smith Cooper epitomize what is needed from a Business Partnership. They have worked extremely hard (and continue to do so), to be self-sufficient from a Sales, Implementation and Support perspective, only calling on Sicon when required.
This approach to tackling the large Sicon portfolio is why they won the Sicon Partner of the Year award in October 2020.
What are the highlights of the partnership between the organisations?
Steve: From a personal point of view, having been the Partner Manager for Smith Cooper for many years, I was extremely proud to present Chris Smith with the Partner of the Year award.
We have worked together to onboard some extremely impressive customer names, however, it is the way both organisations have worked together with the challenging customers that I'm more proud of.
Has SCSP provided support when required?
Steve: Absolutely! As with any software solution, there are those times where the product doesn't fully fit a client's expectations, and Smith Cooper System Partners will always take the lead in handling this, fully supporting Sicon where required.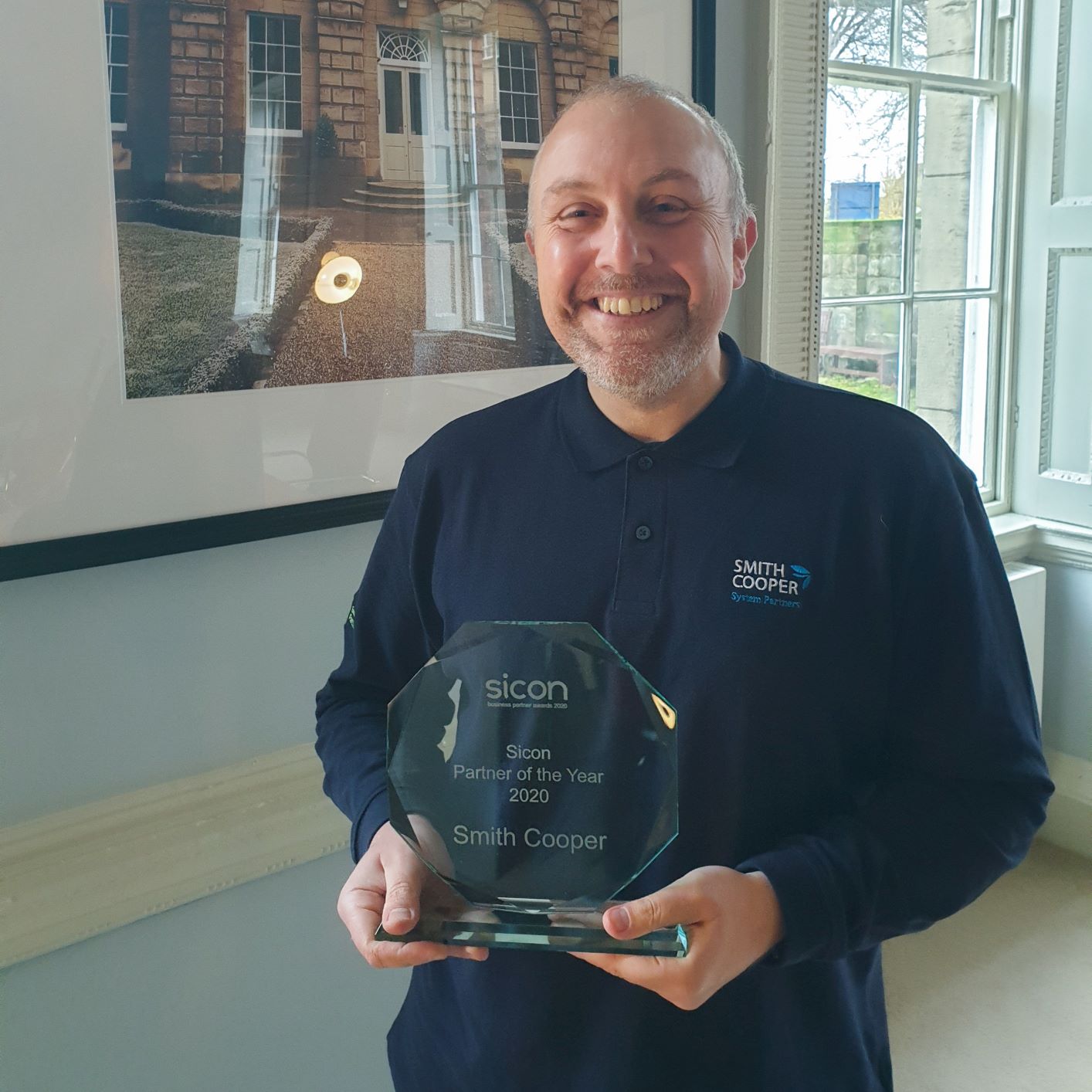 Do you perceive SCSP as a trusted partner?
Steve: Yes! We involve Smith Cooper System Partners team members in a lot of our early development discussions, as we trust and respect their input.
Will you continue the partnership with SCSP?
Steve: Absolutely! In my opinion, our relationship continues to go from strength to strength.
What does our Managing director, Chris have to say about this?
Chris: The Sicon products are now well established as the number 1 ISV product range in the Sage 200 market space. From day one, we have worked hard to be as self-sufficient as possible in all areas of the Sicon range from pre-sales and implementation through to support; and we see the benefits of this policy every day in our customer interactions. At Smith Cooper, we pride ourselves on quality relationships with customers and suppliers and Sicon are a superb partner with a fantastic product range and a great team. We are extremely proud to be the reigning Sicon Partner of the Year and look forward to doing even more Sicon business moving forwards.
---
We'd like to thank Steve for his time and we can't wait to see what the future brings for Sicon!
Take a look at our Add Ons library to browse our range of Sicon solutions. If you would like to discuss the Sicon products in more detail, please get in touch via the enquiry form or call us on 01332 959 008.
Interested to know more about our Sage solutions?
"*" indicates required fields