PKF Smith Cooper Systems are delighted and immensely proud to announce that we have been recognised by Panintelligence as the Reseller Partner of the Year for 2019.
This achievement was confirmed by Panintelligence last week at their Partner Day in Nottingham, where Chris Smith our MD was presented with the Award by Zandra Moore, CEO at Panintelligence.
Zandra Moore said "We're delighted to award Smith Cooper our Reseller Partner of the Year Award. The team from Smith Cooper are great advocates for Panintelligence and really understand the value of our dashboard and analytics solutions. They live and breathe our products by using it internally which gives them a deep and ongoing understanding of our product and our vision. Their input to our product innovations and ongoing support has been outstanding and it's this shared understanding that leads to success."
Managing Director Chris Smith added "We are really proud and massively grateful to Zandra and the team at Panintelligence for recognising us as their Reseller Partner of the year. The main thing about this award for me is that it not only recognises Sales excellence but also other key areas such as Training, Self Sufficiency, Innovation and Marketing. We use Pan extensively in house and the ability to articulate our own story to clients and prospects of how Pan Dashboards have bought our Sage CRM and Sage 200 data to life has been an absolute game changer for our team."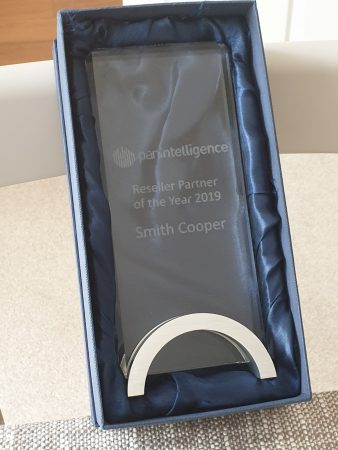 Panintelligence is a multi award winning mobile dashboard application with links to Sage 50, Sage 200 and Sage CRM out of the box. Panintelligence transforms reporting within Sage 200 Financials, Commercials, Manufacturing and CRM empowering you and your staff with key information that is easy to understand and act upon. The Panintelligence dashboard is a browser based internet application that allows Sage users to quickly access real-time data and present it in a customisable and visually appealing dashboard.
---
To find out more about how Panintelligence can bring your Sage data to life, click here, or give us a call on 01332 959008
Interested to know more about our Sage solutions?
"*" indicates required fields