Sicon Manufacturing is a set of production control modules for Sage 200, integrated with Stock, BOM, Sales and Purchase Order Processing.
In early 2020 Sage announced a new partnership with Sicon and confirmed that the Sicon Manufacturing suite would be the production software of choice for the Sage 200 product moving forward.
Unlike the legacy Sage offering, the Sicon manufacturing suite is a group of optional modules. Meaning that you can choose which ones you wish to implement for your business.
Modules include: Works Order Processing, Material Requirement Planning, Shop Floor Data Capture, Job Costing and Barcode and Warehousing.
Supporting businesses across the UK
Ideal for companies with:
Batch or Discrete Manufacturing

Need to extend Sage 200 BOM

Integrated Manufacturing and Projects

Need to move on from Sage 50 Manufacturing
Works Order Processing

Material Requirement Planning

Shop Floor Data Capture

Integrated Project Costing

Rough Cut Capacity Planning
The integrated nature of the Sicon Sage 200 Manufacturing suite allows efficient resource planning at every stage of the production process which is pivotal to any manufacturer.
As part of the Sicon Manufacturing suite, Sicon Works Order Processing integrates fully with the core Sage 200 BOM and Stock Control modules.
On its own, it provides enhanced functionality to the Sage 200 BOM module and is an ideal addition for clients in manufacturing who need a simplified stock allocation and issuing process.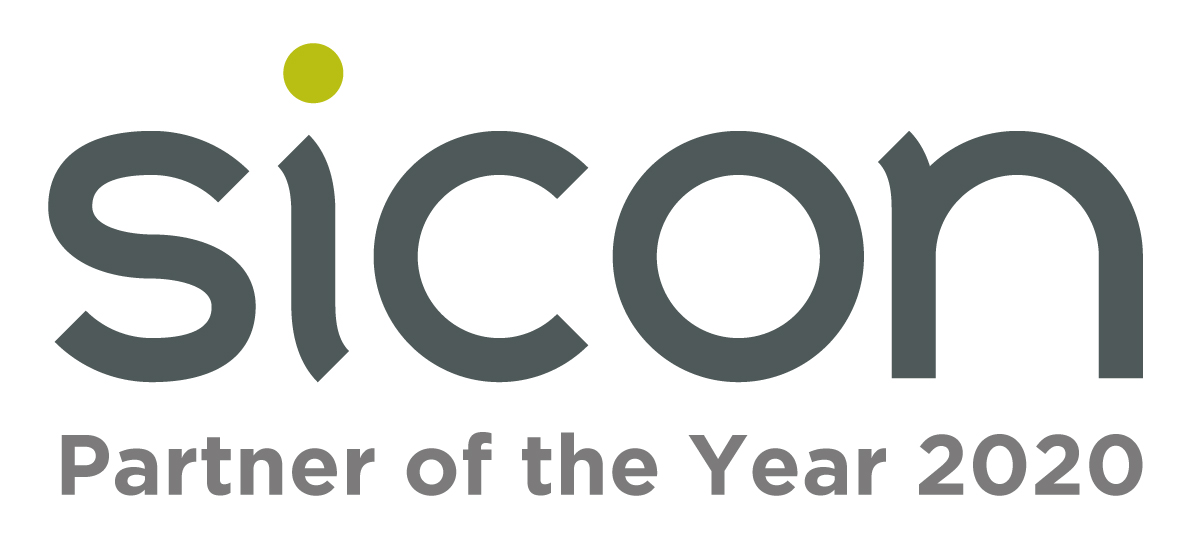 As part of the full Manufacturing suite, this product becomes the key processing engine, with the ability to amend works orders during assembly and update operations with true costs from the shop floor data capture module.
The second core component of the suite is Material Requirement Planning (MRP). Based on material demand from sales and purchase orders, forecast sales orders, free stock and min stock levels plus the Sicon Works Orders module, a list of suggested works orders and suggested purchase orders are created.
Weekly labour and machine capacity demand is also created from Works Orders and generates a rough-cut capacity plan at both labour and machine levels. You can run MRP once a week or twenty times per day. On top of that, you don't need to get everyone out of the system to do it!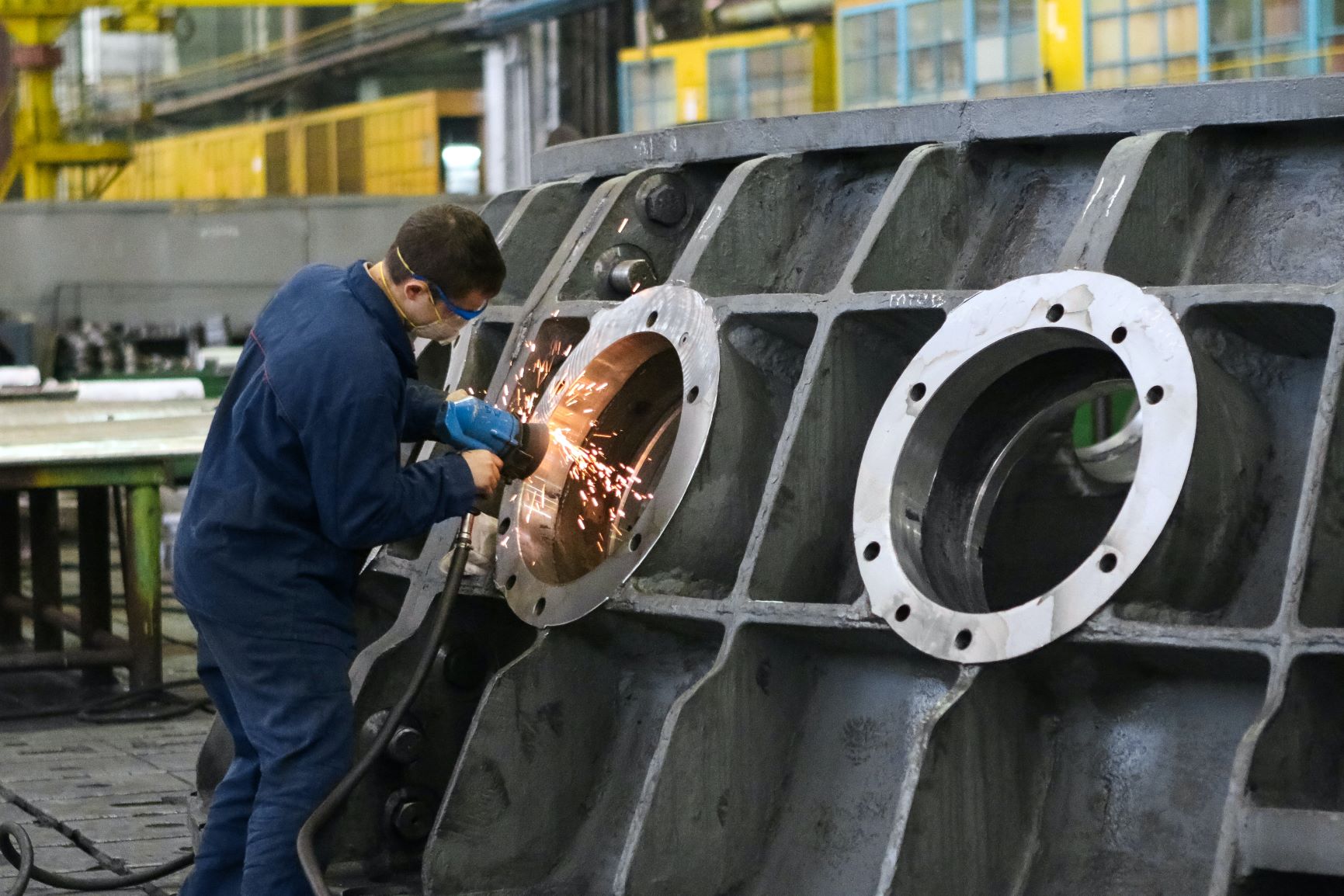 If you need to integrate your Manufacturing with Project Accounting this is no problem. Works Order fully integrates with Job Costing so you can see ongoing commitments and WIP in your projects as the production process progresses.
Sicon Manufacturing is made up of many modules including:
Works Orders
MRP
Capacity Planning
---
Detailed Features:
Supports one-off job costed or high volume repeat production manufacturing.
Uses the standard Sage 200 BOM to create Works Orders.
Allows pre-allocation of Purchase Orders not received to Works Orders.
Works Orders can be linked to Sales Orders and/or Jobs.
Supports Sub Contract Processing.
Stock costing methods, version control and traceability are included in all modules.
Shortages are derived from outstanding works orders, sales orders, kits, stock transfers purchase orders, forecast Orders and min stock levels.
Easy import of forecast demand.
Time can be booked directly to works orders or jobs via the Shop Floor Data Capture module.
Integrates with the Sicon Barcoding & Warehousing module for picking of Works Orders.
Manufacturing Module Relationship Diagram: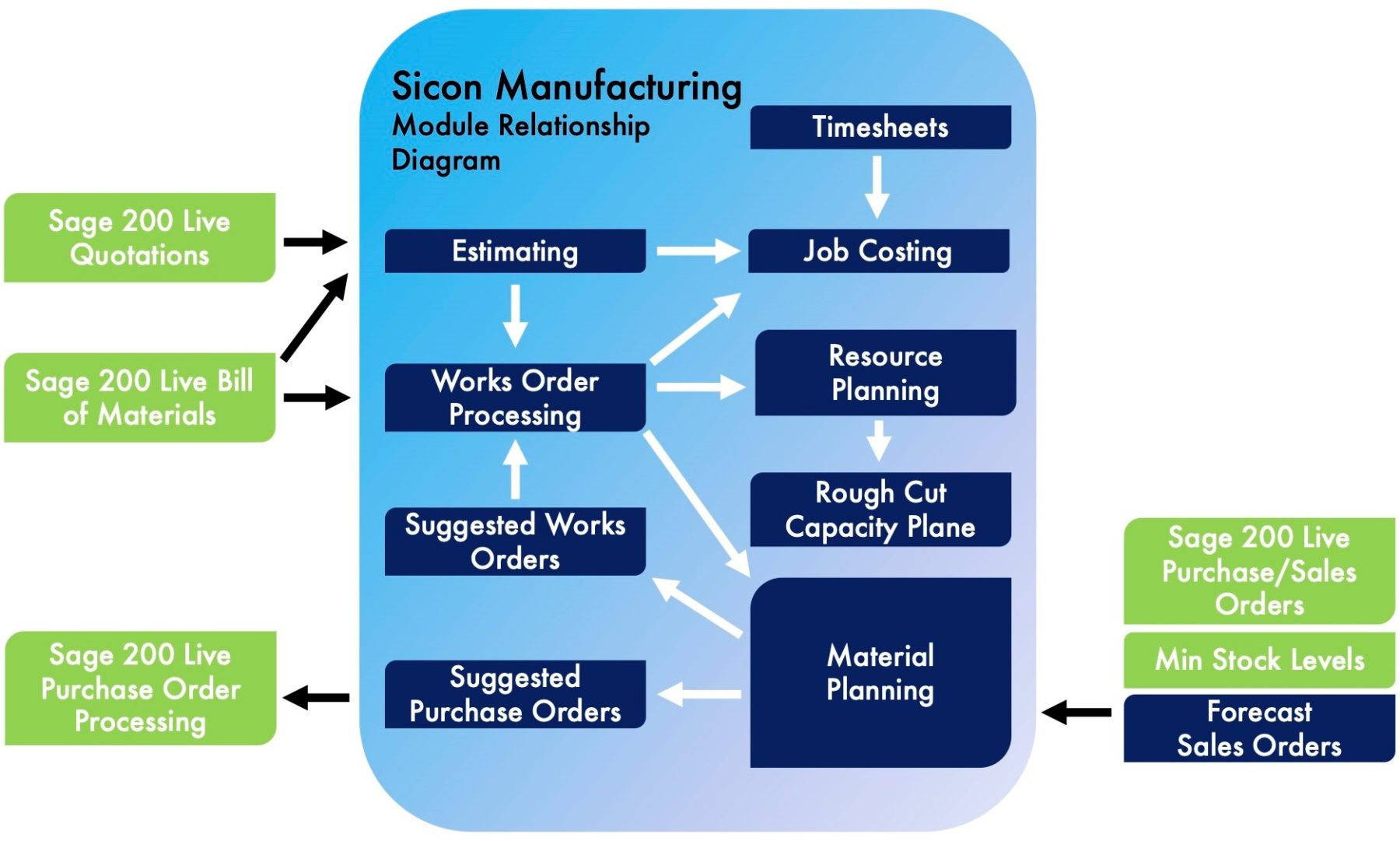 ---
If you would like to discuss Sicon Manufacturing in more detail, please do not hesitate to contact us on 01332 959008 or [email protected]
Get in touch now to discuss the best option for your business!
"*" indicates required fields
If you're interested in this Sage product then we think you may also be interested in..