What is it and how is it different to Sage Intacct Starter Edition?
Sage Intacct Editions has been developed for organisations who are increasing in growth and looking for a new or updated accounting solution, without having to take a huge financial hit.
Sage Intacct Editions has been designed for smaller and growing organisations who are due to outgrow their current solution. The two main pain points that have been highlighted are of the same topic – finances.
Scenario 1 is that, financially, the step up to funding a new or upgraded solution is too vast. Scenario 2 is that your budget is limited and you're hesitant to invest in a bridge solution that you know you will outgrow within a few years. Sound familiar?
Sage Intacct Editions provides a solution that will be designed to your needs, both now and in the future, and within your budget. Within Sage Intacct Editions, you can benefit from:
Closing books 80% faster thanks to streamlined multi-entity consolidations
Increasing work efficiency by up to 90% by reducing man-made errors in manual processes
Accessing real-time multi-dimensional reporting…
… and more!
Depending on the package you select and thanks to the design of the preconfigured solutions, you can go live in as little as 6 weeks and experience the value of having Sage Intacct Editions!
Perfect for those in…
---
What makes up an Edition?
An Edition is made up of tiered bundles of product (Essentials, Pro and Custom), with the option to include additional add-ons, and service accelerators that are designed to efficiently aid the implementation process.
All products include a Common Core which entails the following features:
Core Financials
Platform Services
Web Services
Learning Membership
2 Business Users
1 Employee 10-Pack
1 Additional Entity
Basic Project Tracking
Basic Time & Expense
There is also the option to buy additional modules at a reduced price (up to 30% discount).
It's important to note that a deal can be sold without the service accelerators shown in the chart above, however, it is not possible to have Trusted Practice Solutions (TPS) without the fixed scope implementations and templates.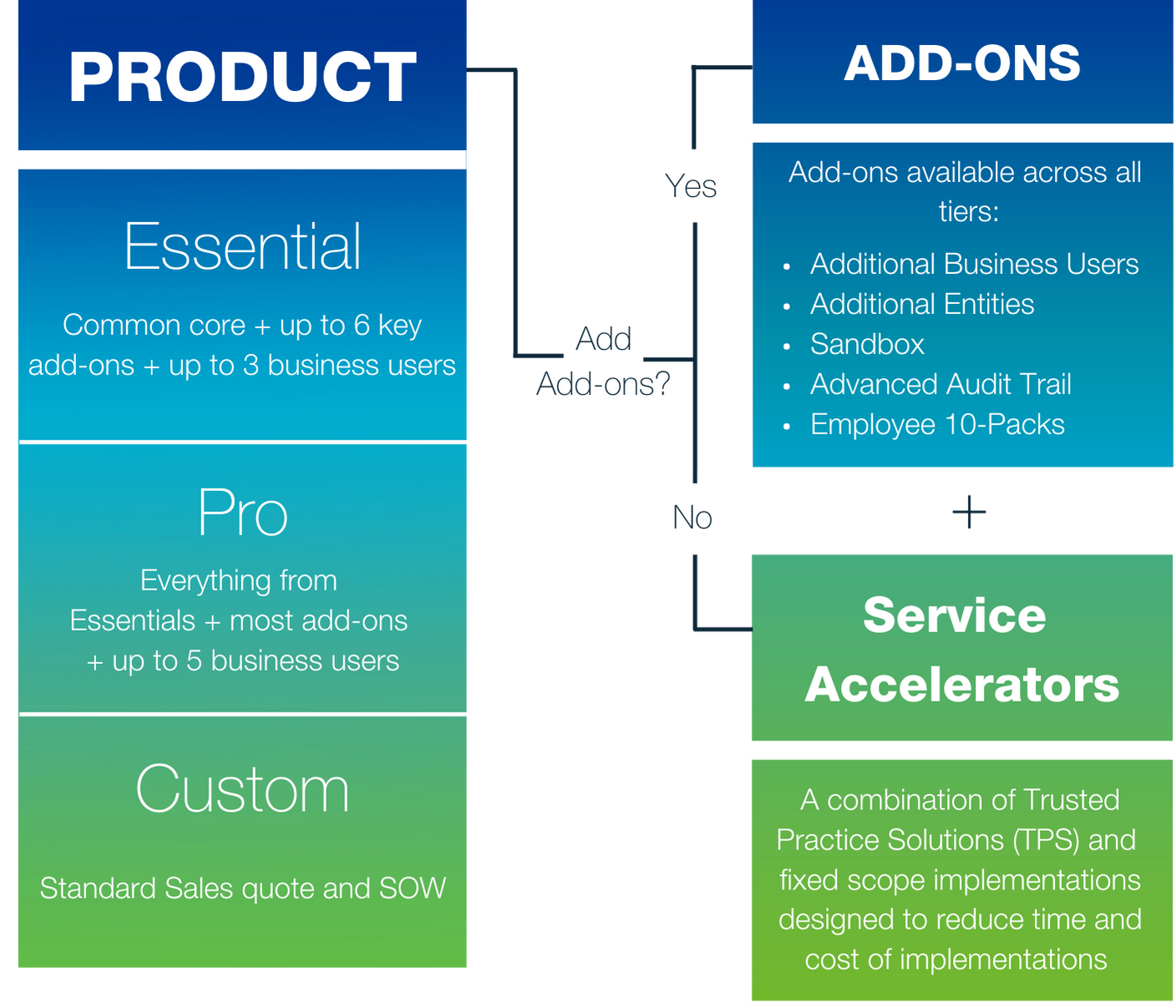 ---
To learn more about this great intro to Sage Intacct software, contact us today on 01332 959 008, or use the enquiry form on this page.
Why work with PKF Smith Cooper Systems?
THE GOOD GUYS TO DEAL WITH
Our business is built on long lasting, mutually beneficial business relationships. We provide quality service and solutions that work for our clients in the short, medium, and long term.
All our staff are fully accredited in the full range of the Sage 200 Suite and we will never sell you any third party add-on that our staff are not trained to deliver and support directly.
Book a FREE on-site visit to discuss how sage can help scale your business.
Call 01332 959008, email us or enquire online today
"*" indicates required fields