Like other Sage software, Sage constantly updates Sage CRM to make sure it's working for its customers.
With the release of Sage CRM 2023 R1, we've been reviewing the changes you need to know about.
The improvements in this release can be broadly put into two categories: the user experience, and the software development kit (SDK).
---
Improvements to User Experience
Alongside addressing customer cases (with 20+ of them resolved), this latest version of Sage CRM also updates many other areas related to user experience.
Company Narrative Summary
One of the headline improvements in this version of Sage CRM is the Company Narrative Summary.
Under a new 'Narrative' section in a company, this is a easily understandable set of information summarising what's stored about them on the CRM – including recent sales, cases and relationships.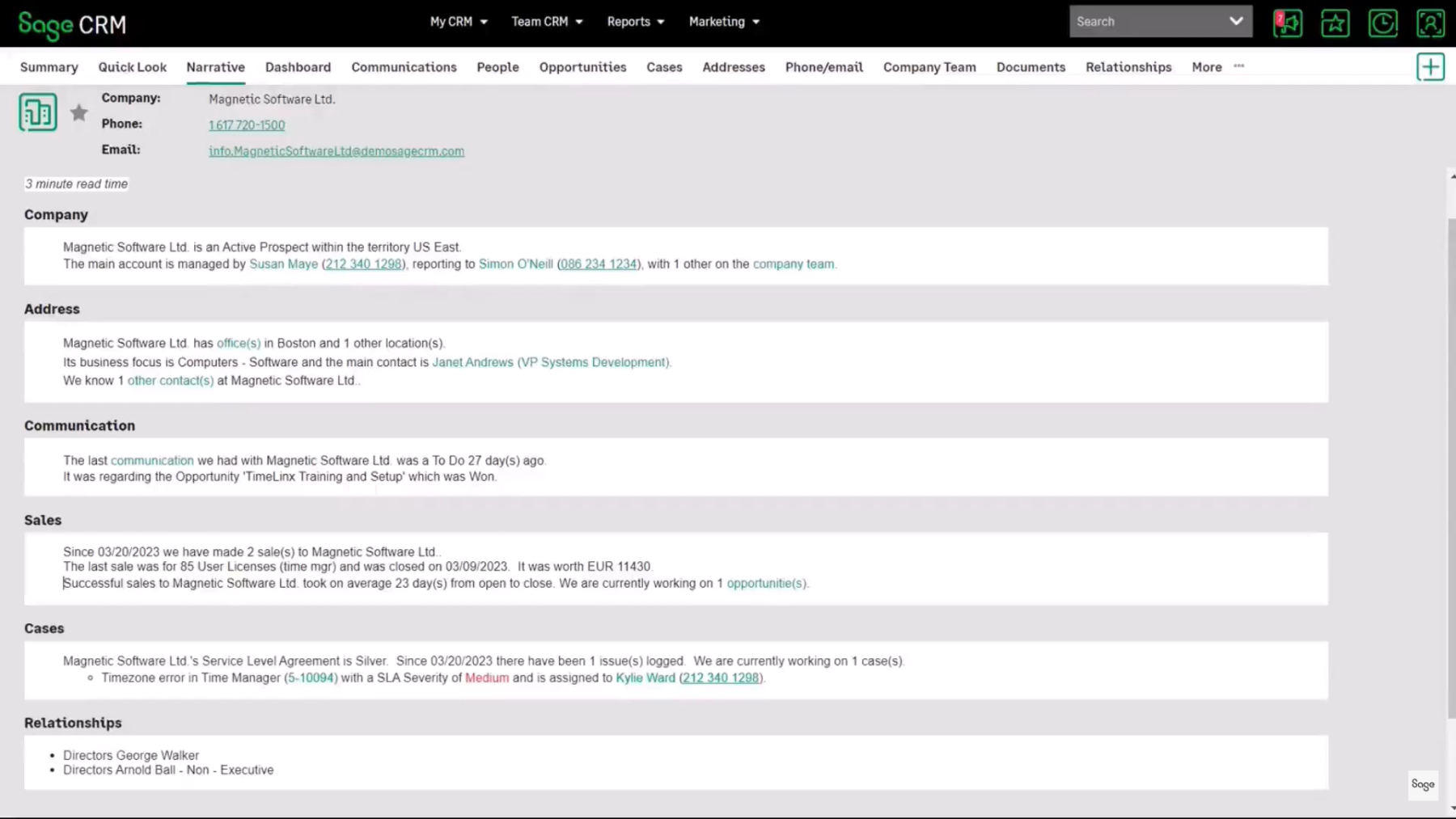 It's created using deterministic AI. This isn't the same type of AI that's making the news as part of ChatGPT (that's generative AI). Deterministic AI produces the same output for a given input every time – meaning it's consistent and accurate.
Editing Merged Documents
You can now edit any document that has been loaded into the library (e.g. because of a merge), These can be downloaded, edited and reuploaded as the same document. This includes any document, from XLS, XLSX, CSV, and TXT files.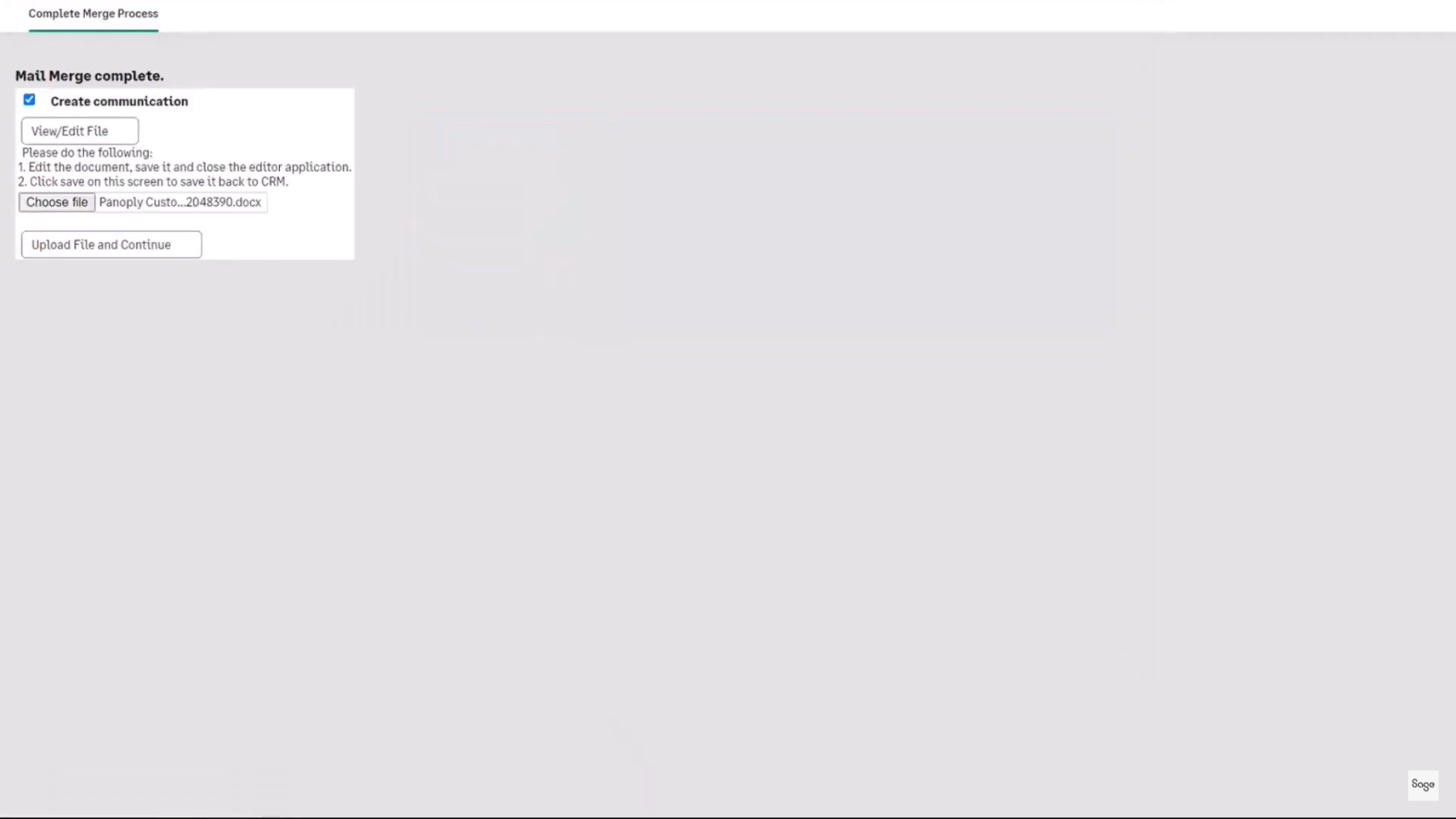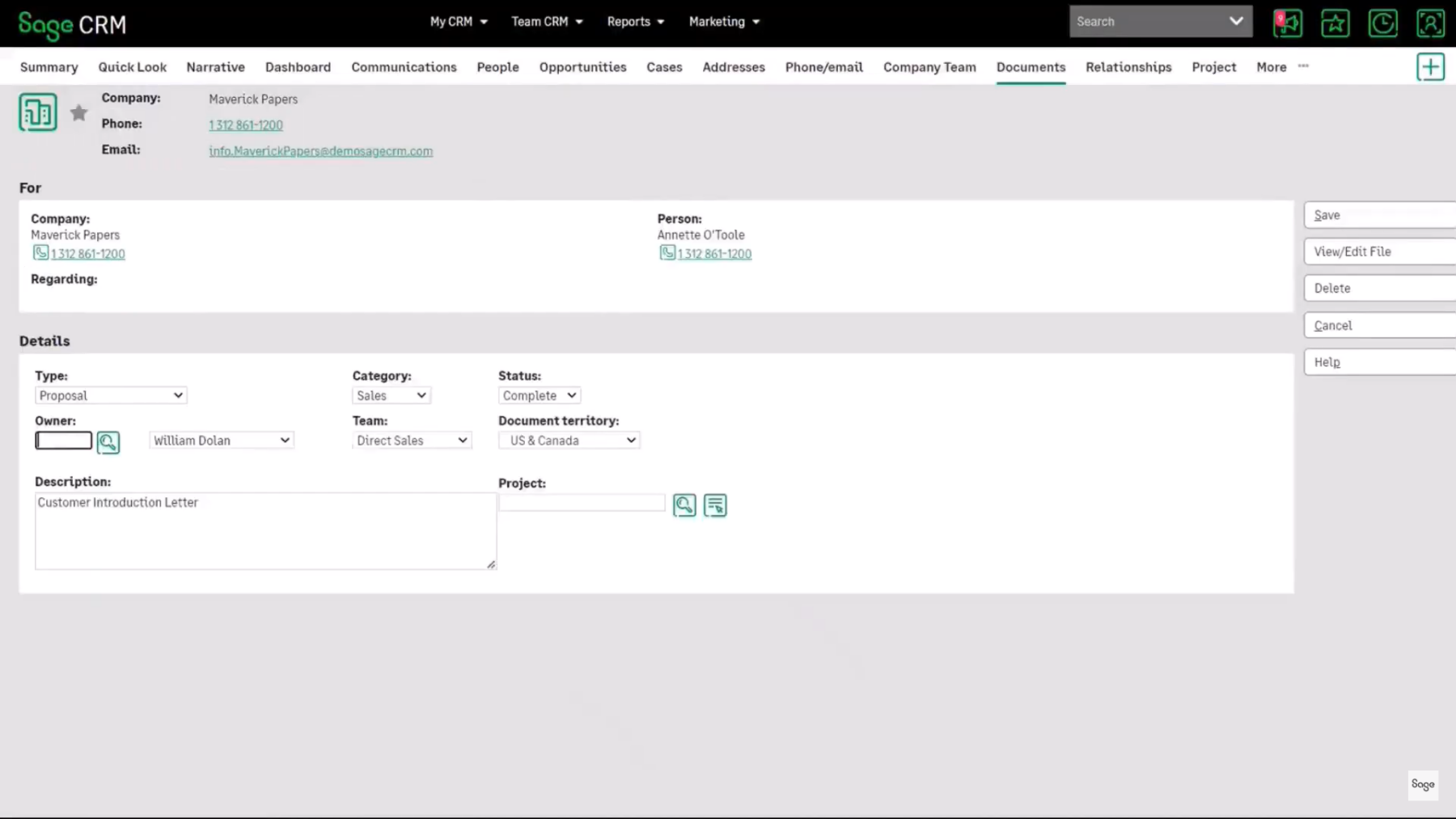 Security Improvements
Sage has tweaked some of the security measures in place on Sage CRM. You can now configure the system restrict the upload of certain file types. This can stop potentially harmful files, like .exe files, being uploaded to your CRM and impacting your business.
Overriding Styles
There's been a minor branding update, alongside the ability to override pre-loaded styles. This means a company can now have the CRM show its company colours and logo when a customer comes to sign in.
Accessibility Improvements
Sage has also improved the accessibility of Sage CRM, making it more user-friendly for people who need to use screen magnifiers or screen readers.
Email Import Feature
This feature has been extended. Now, it covers case entities as well as opportunity and person. Once a file is uploaded, it's automatically filed against the relevant person or company – making for easier tracking and organisation.
SDK Installer & Advanced Customization Wizard updates
The SDK installer, free for developer use, has been updated to support this new release. In addition, a new version of the Advanced Customization Wizard has been created to support the new features added in Sage CRM 2023 R1.
Our CRM expert Peter Clark says:
"The release of Sage CRM 2023 R1.1 is an exciting one, with a bit of something for everyone.  For Users we have the long awaited "Import Email" functionality to replace the legacy Outlook plugin and the ability to edit Documents.
For admins there's improved security options for documents uploaded or filed through the whitelisting of file types, including those attached as part of the email process which is a welcome security enhancement. 
For devs the rest API endpoints continue to be expanded and there's a new Advanced Customisation Wizard that includes the new "Import Email" functionality.  A lot to get stuck into!"
Want to learn more about the new release? Click the button below!
---
If you have any questions about Sage CRM 2023 R1, please get in touch by filling out an enquiry form or call us on 01332 959 008.
Interested to know more about our Sage solutions?
"*" indicates required fields