Lunch date with Sage CEO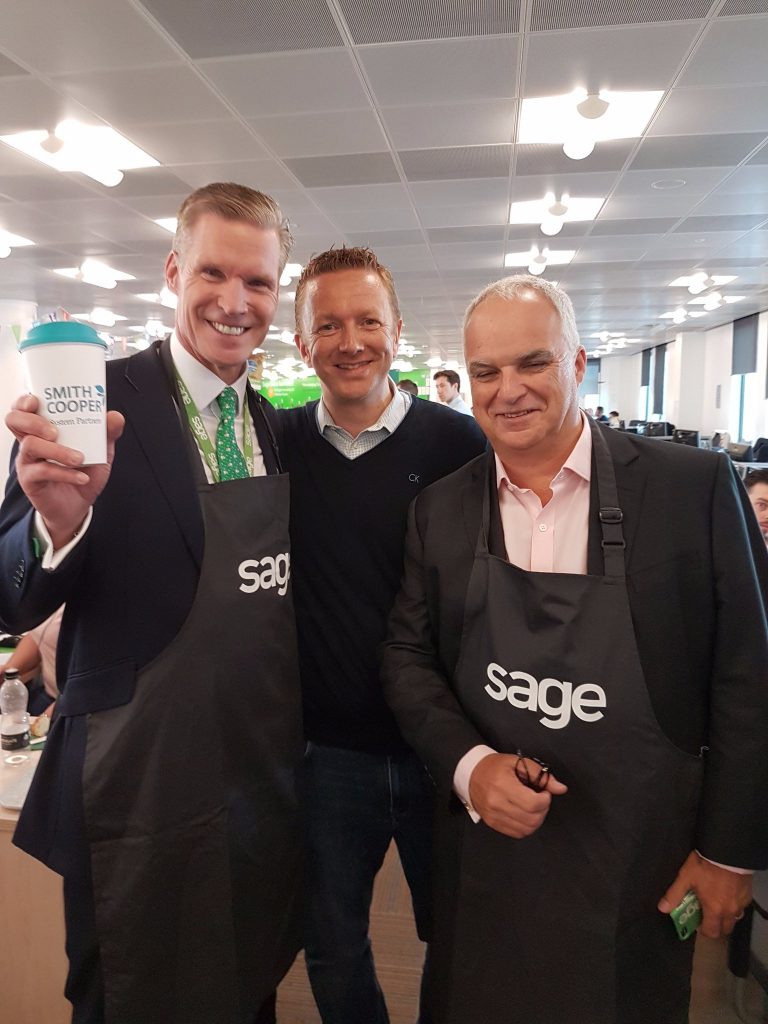 Way back in September, in the final week before Sage's year end, Stephen Kelly (Sage Global CEO) visited Sage UK head office, North Park Newcastle, and was walking the Sales floor talking to the team and revving everyone up for the usual year end push. Whilst Stephen was talking to the Sage 200 guys, our fantastic internal account manager, Julie Stephenson, managed to somehow get a photo of him holding one of our now legendary Smith Cooper Coffee cups!
Suitably excited by this "coup" Julie phoned our MD Chris Smith to tell him the good news, not appreciating that Stephen was standing next to her. Over in Derby our MD, Chris, starting his day and thinking he was about to provide the daily sales update to Julie, suddenly found himself providing his morning sales update to Stephen Kelly!
During the conversation, Chris set out what Smith Cooper was hoping to achieve by the Year End close down, which would already have been a major achievement for our company. Typically, Stephen listened to our forecast and set us a "stretch" target, but at the same time pledging if this was achieved he would personally take us out for lunch at the Oblix Restaurant in the Shard.
At the year-end closedown, Smith Cooper finished number three in the UK for our core product Sage 200, only being bettered by Datel and Pinnacle, two great partners, but two businesses who operate a totally different model to everyone else due to their scale. True to his word, Stephen made good on his pledge and last week Chris Smith (MD), Richard Brewster (Technical Director) and Sam Pidgeon (Southern Region Manager & Sage Live Product Leader) met him for lunch at the amazing Oblix restaurant on level 32 of The Shard.
It was a superb experience for our team to enjoy quality "facetime" with Stephen and a real privilege to tell him about our company, our achievements to date and to share some of our plans and aspirations for the future. It was also great to provide Stephen with some feedback on Sage (mostly positive, always constructive!) and how we currently find life as a Sage partner, right from dealing with the guys on the ground through to some of the more strategic elements. The food was also tremendous.
The success and evolution of Sage in the coming years is clearly pivotal to the success and evolution of Smith Cooper and all other Sage Business Partners, so it's great to consider that we have someone like Stephen Kelly leading the way forward. Whilst there are always commercial considerations, it was great for us to see the clear empathy and interest Stephen has in the channel and our team all left the meeting enthused and ready for the challenges ahead.
Smith Cooper is one of the top three Sage 200 partners in the UK. We have offices across the Midlands in Derby, Nottingham and Birmingham as well as Central London and Reading.
---
If you would like to discuss a potential new Sage 200 System or perhaps already have Sage 200 but wish to review your options or simply get a second opinion, you can contact us on 01332 959008 or [email protected].
Interested to know more about our Sage solutions?
"*" indicates required fields