---
We've always touted ourselves as the "Good Sage Guys to Deal With". A big part of this ethos is our passion for helping everyone understand all things Sage. From the solution itself to the various topics surrounding it, we're happy to help.
The "10 Questions On…" series is designed to answer all of your questions in an easy, accessible manner.
The premise is simple: we take 10 of the most commonly asked questions about the solutions we provide and various topics surrounding them and give you the answers in a simple and approachable way.
In this instalment of the series, we will be looking at Sage 200 Manufacturing.
1. What is Sage 200 Manufacturing?
Sage 200 Manufacturing is the result of a partnership between Sage and Sicon that began in early 2020. As a replacement for Sage's out-of-the-box version, Sicon's add-ons are additional modules that the user can choose, all based around key processes within manufacturing.
To avoid confusion, from this point on we will be specifically looking at questions related to Sicon for Sage 200, rather than the legacy system known as Sage 200 Manufacturing.
2. What are the modules included in Sage 200 Manufacturing?
Sicon Manufacturing for Sage 200 has eight modules you can choose from:
Works Order Processing
Bill of Materials
Material and Resource Planning
Full Stock Traceability
Kitting
Projects
Estimating
WIP Reporting
3. What are some of the benefits of using Sicon Manufacturing for Sage 200?
Integration – All modules integrate seamlessly into your current Sage 200 setup
Traceability – Works Order Processing and Job Costing modules means you can keep track of your stock and resources. This means less missing goods, and more happy customers!
Automated processes – this means less chance for human error and more efficient service overall
Data visibility and cost analysis – available at all stages of the process, from demand to completion. This means you can control costs and ensure consistent profit.

4. How are the modules linked together in Sicon Manufacturing for Sage 200?
Though the modules listed above work just as well separately, bringing them together is where they really shine.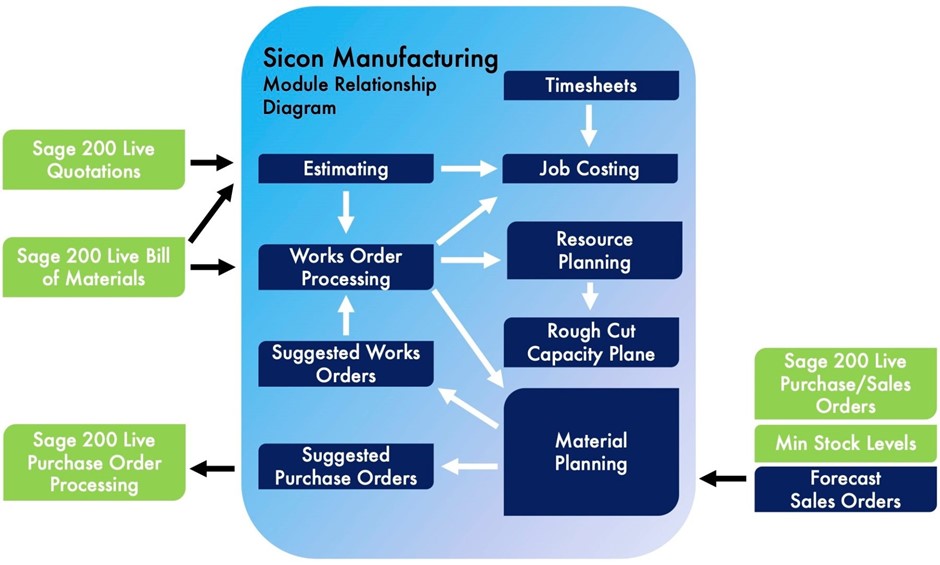 As you can see from the diagram, Sicon's modules don't only integrate with the existing parts of your Sage 200 software. They also feed into each other, letting you have total control over your manufacturing process.
5. Is there a limit to the amount of data Sicon Manufacturing can process?
There isn't a limit on this per se – like with Sage 200's limit of 999 companies, Sicon Manufacturing's uses the same SQL tables as Sage 200, subsequently there is no theoretical limit on the data. Thus, most companies, whose processes fit the level of software, do not see any performance or data issues at all.
6. How can Sicon Manufacturing help different industries?
Because of its flexibility, Sicon Manufacturing's modules can used in any industry where stock and other resources need to be planned and tracked. Our clients for Sicon Manufacturing have included everything, from bread bakers to the cosmetic industry to manufacturers of sticky tape!
Whether you've got fixed products and repeating orders or are looking for something more bespoke, Sicon Manufacturing for Sage 200 can help you.
7. How easily does Sicon Manufacturing integrate with Sage 200?
Very easily! All of the modules in Sicon Manufacturing sit inside the program and are fully integrated to your core Sage 200 modules, including Stock, BOM, Sales and Purchase Order Processing. Transactions are immediate and there is no concept of a scheduled "sync".
8. How well does Sicon Manufacturing integrate with any other Sage add-ons?
While Sicon Manufacturing obviously works well together with other Sicon add-ons, such as Barcode and Warehousing and Documents, it will not be able to used in tandem with other, non-Sicon, add-ons.
9. Who would do support/implementation?
Though Sicon Manufacturing is a third-party product, the support you'll receive from pre sales, through implementation and beyond will all come from the PKF Smith Cooper team. We do NOT outsource our Sicon Manufacturing project work as many other partners do.
10. Does Sage Intacct Manufacturing work with Sage 200?
Sage Intacct Manufacturing is a new Manufacturing suite released by Sage, specifically for the native cloud Sage Intacct product. Subsequently it will not currently work with Sage 200.
---
That's it for this post – stay tuned for the next in the series.
To enquire about how Sage 200 can help your manufacturing business, solution can help your business work smarter, call 01332 959008 or contact us using the enquiry form.
Interested to know more about our Sage solutions?
"*" indicates required fields