We're excited to announce the release of Draycir's Proof of Delivery module for Spindle Self Serve. This is ideal if you have service staff
who require a signature or your business operates its own fleet.
This new module means that you and your business can benefit in an array of ways.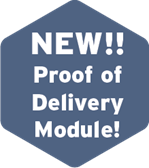 Features
Get improved fleet management with the Proof of Delivery module for Spindle Self Serve
Real time monitoring (GPS) of delivery driver
Improve customer service with live control of the delivery fleet to quickly respond to customer requests
Route Optimisation
Plan routes quickly and effectively to ensure overall fleet efficiencies are maximised
'Sign-on-glass' signatures to replace paper delivery notes
Quickly capture customers signature, without the need to carry delivery notes and other paperwork
Record delivery status, such as 'Could Not Deliver', and upload related images
Improved overall job management to record any issues and inform back office staff immediately
View all delivery information within Spindle Self Serve and Sage 200
Search all related documentation and reduce the chances of lost or misplaced documents
---
If you wish to discuss your requirements in more detail or would like to arrange a web demo you can contact us on 01332 959008 or [email protected]
Interested to know more about our Sage solutions?
"*" indicates required fields