Sage CRM is a highly customisable system and for some, the standard field values used might work just fine.
However, there are other display options available. In Sage CRM you are able to show these field values as icons if you want to.
Keep reading to discover how!
---
Within the admin screens, you can make a column in a list show selection field values as a gif, as seen in the image below: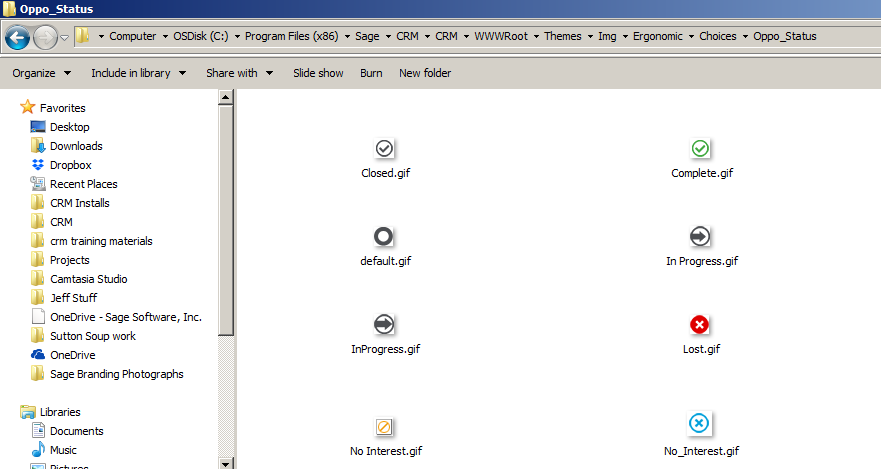 In the above example, the Opportunity Status field is displayed as an image. The value of the field matches one of the images stored on the server.
To change the image in this area to a gif, you must use the client side API.

Find the CRM system's custom Javascript folder: C:\Program Files (x86)\Sage\CRM\[installname]\WWWRoot\js\custom

Then, add a new javascript file into the custom JavaScript folder, with the code listed.

Once the new JavaScript file is loaded into the screens this will change the display of the fields.
The final step in this process is to add some code; please contact your PKF Smith Cooper Systems Account Manager for access to the code.
This small change is a great way to make your Sage CRM system even more dynamic, and usable at a glance.
If you would like more support concerning your Sage system, take a look at our Sage support service. Contact us via the enquiry forms or call 01332 959 008 if you would like more information.
---
NB: Be advised that the information/accuracy in this article may differ depending on which version of Sage CRM you use, as a result, some options and processes might look different. For all support queries please email [email protected].
Interested to know more about our Sage solutions?
"*" indicates required fields