Processing a supplier payment in Sage 200 can be completed in a range of different ways.
However, if you want to produce a remittance then only one of these ways will work for you.
In order to process a supplier payment in Sage 200, you need a Payment Processing Routine.
The Payment Processing routine will pay your suppliers, produce a remittance and, if set up for E-banking, will create you a file that you can upload straight into your bank account.
In some cases, you don't want to pay a chunk of your suppliers, despite this you still need a remittance.
Here's how to achieve this in Sage 200:
---

Purchase Ledger > Period End Routines > Payment Processing > Generate Suggested Payments
Select a Remittance Date
Choose the age of the invoices you wish to pay
Produce the Suggested Payment Report if required. At this point, this will be all suppliers with invoices overdue by the number of days selected.
This can also be viewed in the workspace Suggested Payments – this screen can be filtered and amended and can be more useful than a report for quickly finding information.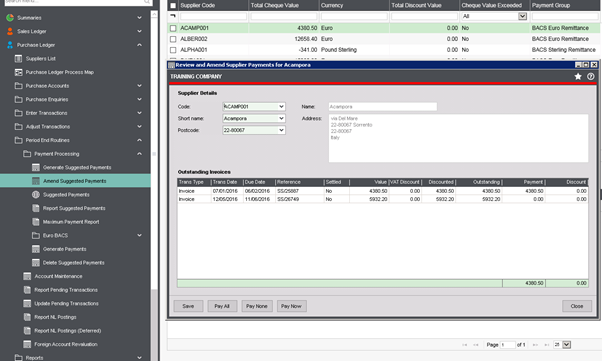 Purchase Ledger > Period End Routines > Payment Processing > Amend Suggested Payments
You can pay invoices that do not fall within the dates specified in the Generate Payments option, as long as the suppler has a transaction which did. However, if a supplier did not meet the criteria and does not appear in the Suggested Payments report, you cannot add/amend it here.
e.g screenshot shows transaction due 11/06/2016 which is after the remittance date. As the first transaction due 06/02/2016 fell within the parameters specified, all outstanding transactions on that supplier will show.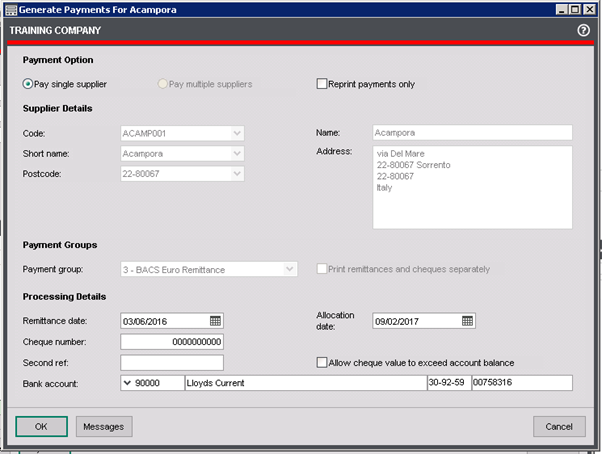 Amend Payment column for transactions if required.
Options to Pay All, Pay None, or Pay Now.
Pay Now option will pay that single supplier and produce a remittance (depending on whether this is set up in the Payment Group). See screenshot below

Select Remittance Date, Allocation Date, references and Bank Account
Press OK
You can do this individually for each supplier within this suggested payment if required. If you try to amend a payment that has already been made or amended, you will get the following message:
---
If you would like to stay in the loop about our latest tip then make sure you are following us on Twitter, LinkedIn and Facebook!
As we are constantly looking at ways in which we can improve our service, you are more than welcome to leave your feedback on our form. If you have any suggestions for what you would like to see featured as a tip of the week please email [email protected].
If you would like more support concerning your Sage system, take a look at our Sage support service. Contact us via the enquiry forms or call 01332 959 008 if you would like more information.
---
NB: Be advised that the information/accuracy in this article may differ depending on which version of Sage 200 you use, as a result, some options and processes might look different. For all support queries please email [email protected].
Interested to know more about our Sage solutions?
"*" indicates required fields