This week we held our annual Sage 200 customer event, virtually!
Our regular annual, regional, Sage events are something we always look forward to but, for obvious reasons, we were unable to run any last year. So this year we knew it was way overdue and we had to make it a good one!
This virtual event was the perfect way to connect with all of our customers and also some new prospects who are interested in switching to Sage. To make up for the lack of free coffee and pastries, we sent Goodies boxes to all delegates who booked early.
Aside from the core Sage 200 update, the underlying idea of the event was to highlight solutions that are relevant to the new ways of working. Including several we use ourselves 'in house'.
The webinar started with a brief introduction and company update from our Managing Director, Chris Smith.
Chris updated the audience on the growth and expansion of SCSP, as well as our plans for the future. He then opened the floor to Jonathan Denton from Sage who took us through a general Sage Update, the Sage 200 Roadmap, its new features and finally some great insight into the new browser based version currently in production. Jonny also provided a short awareness piece on Sage Intacct. After a short break and an influx of questions, it was Sicon's turn.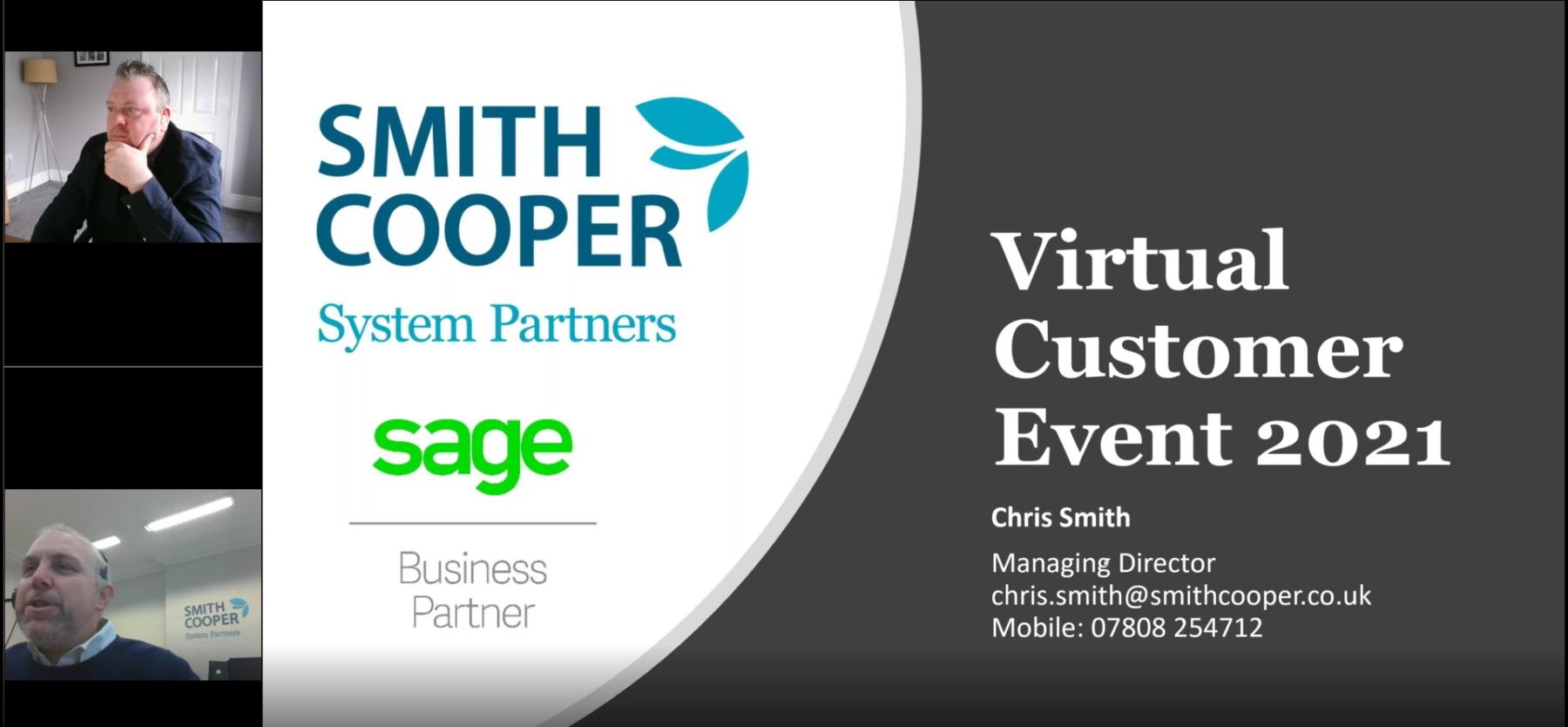 Steve Jemmott focused on remote authorisation and web access for Sage 200. WAP is a solution that helps with remote data entry, and authorisation, to multiple areas of Sage 200 for non-Sage users. This is one of the solutions we use in house.
Zoe Young, from Draycir, then picked up the mic and presented Spindle Self Serve. Self serve is an excellent web portal for Sage 200 for, both, external and internal users. Again, this is something that we use every day. Our implementation manager, Craig Taylor, also filmed a handy video on how to use it.
The last panellist session of the day was handed back to Steve from Sicon, who discussed their new suite of Distribution Modules. You may already be familiar with this product as a single stand-alone module. However, following partner feedback, Sicon has now decided to supply the solution as a serious of smaller individual modules.
Our MD Chris Smith said "Whilst we all long for the day we can meet face to face again, in many ways this was one of the best events we have ever done. Being able to present to all our customers from all over the country in one session was amazing. The attendance was crazy and the interaction from the presenters and delegates was superb."
Finally, we want to say a huge thank you to everyone that attended our annual Sage event, it was the first time we have done anything like this and the support was incredible! If you were unable to attend our event you can access the recording of the full session here, the timestamps are listed below. Separate recordings will be made available and when they are ready they will be accessible here.
If you would like to talk to one of our experts about Sage 200 or any of the approved ISVs then fill out the enquiry form or call 01332 959 008.
---
Time Stamps:
Welcome and Smith Cooper Update, Chris Smith: 2:30 – 18:17

Event Agenda: 2:30 – 9:50

SCSP Commercial Update: 9:50 – 18:17

Sage 200 Update (General Update, Roadmap, New features and Futures), Jonny Denton from Sage: 18:17 – 1:01:00
Break: 1:06:05 – 1:20:45
Sage 200 Remote Authorisation and Web Access, Steve Jemmott from Sicon: 1:21:47 – 1:49:12
Sage 200 Portal for Employee and Customer Access, Zoe Young from Draycir: 1:52:59 – 2:20:01
Break: 2:24:11 – 2:30:04
Sicon Distribution Modules, Steve Jemmott from Sicon: 2:30:17 – 2:59:11
Summary and Close, Chris Smith: 3:01:01 – 3:03:50
Interested to know more about our Sage solutions?
"*" indicates required fields